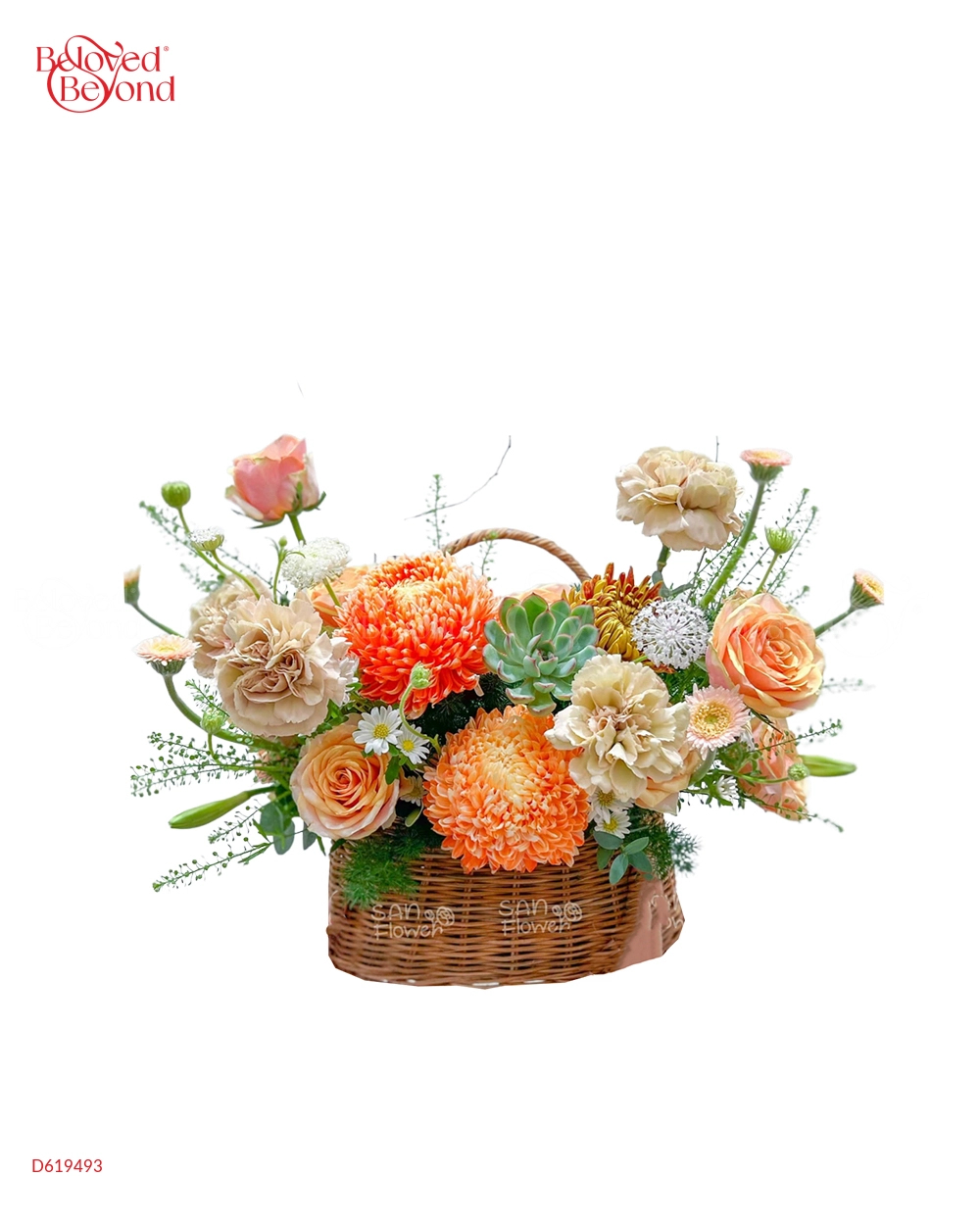 Photos of the finished product are sent before delivery.
Offers and commitments
Special offers and commitments only available at Beloved & Beyond when customers order flowers:
1) Give a birthday card worth 20,000 VND to the bouquets / flower box.
2) COMMITMENT FROM BELOVED & BEYOND:
• Flowers are fresh every day
• Send pictures before delivery
• 100% refund if the customer is not satisfied
• Notice of order status via App
3) Refund (1.5%) into Beloved & Beyond account when the order is delivered
4) Earn points for your referrer.
Product information
Giỏ hoa cúc mẫu đơn mix hoa hồng nhập khẩu tone cam
Giỏ hoa mix của SAN Flower là một sự kết hợp tuyệt vời giữa hoa nội và hoa nhập, mang đến một kiểu dáng độc đáo cho món quà của bạn. Sản phẩm này phù hợp với nhiều đối tượng người nhận như chị em gái, nhân viên, bạn gái, đối tác, vợ, đồng nghiệp, bạn bè và sếp. Bạn có thể tặng giỏ hoa mix trong nhiều dịp, như ngày Thầy Thuốc VN, báo chí Việt Nam, nhà giáo Việt Nam, phụ nữ Việt Nam, kỷ niệm ngày cưới, kỷ niệm ngày quen nhau, sinh nhật, ngày Doanh Nhân VN, quốc tế phụ nữ và Valentine. Đặc biệt, sản phẩm được làm đúng theo mẫu, đảm bảo sự hài lòng cho người nhận.
Lưu ý: 
Hoa sẽ được thay đổi tùy vào mùa vụ của hoa vì thế của hàng sẽ chủ động đổi nếu sản phẩm có hoa hết mùa. 
Hoa được làm thủ công, hình dạng, màu sắc, kích thước và độ nở của hoa sẽ có chút khác so với mẫu. 
Product provided by